"BE A StartUp" … FAST-TRACK DOUBLE – 52 WEEKS

BSB40820 – Certificate IV in Marketing and Communication
 plus BSB40320 Certificate IV in Entrepreneurship and New Business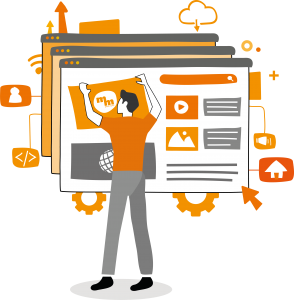 Have you heard the term "the great resignation"? We say, it didn't start with the pandemic, since at MnM we have seen a trend over the last ten years telling us that the current resignations are nothing out of the ordinary.
It is rather a tech savvy and nomadic generation isolated from overpriced education or career opportunity that is re-evaluate its options. Yes, the status quo is undergoing a striking shift and starting your own business and living a independent lifestyle has never been easier or more popular
Wishing to have much more control over their own time and doing things that make sense to them is showing continuous growth as normal.
MICRO BUSINESS CHARACTERISTICS
typically have one owner, 1-5 employees, and are small, simple, and flexible
focus on a single product or service, and maximise its profitability
can be scalable, systematised, and structured as passive income- require small cash investment
can be sold
unlimited earning potential
GOVERNMENTS ALL OVER THE W

ORLD CUTTING RED TAPE
Why?
to make it more accessible for a wider demographic to to start their own businesses
small, local businesses are better for a local economy
they create jobs, inspire innovation, boost local communities and help you be more ethical
This type of start ups have made a name for themselves. In Europe they are called the backbone of the economy. For Southeast Asia they are the economic lifeblood and account for 99% of all businesses. In Latin America and the Caribbean a marked priority for policy makers consist 99.5% of firms and in Indian they are the growth accelerators of the economy.
This is perhaps the perfect time to take your idea from concept to market.

Participants are encouraged to challenge their assumptions and focus on their aspirations to define their vision. They engage in brainstorms to find out how they can have a positive impact on the world and make a living doing what they love. Mentors are here throughout the process to assist participants in anticipating potential issues and discuss solutions to break through their limitations.
During their study time, they will attend workshops adapted to their needs, meet with mentors, collaborate with like-minded achievers and complete their portfolio based on their own brand model to demonstrate their competency in each of the units of the program.
What will you get? 
Google suite that enables you to access content and guidelines via their virtual classroom app and create collaborative documents.
Opportunity to participate in the mnm Pitch-Off competition. Price money for the event is $4,000 twice a year.
Active "Entrepreneurs" to mentor your progress.
Guest Speakers on various topics for Marketing, Business and Entrepreneurship.
BE A GREAT RESIGNATION SUCCESS STORY … "BE A StartUp"
Takeaway – You'll leave armed with a 'straight to market' strategy plus we'll help you build the confidence you need to take the leap !
Units of Competency
The ultimate course to make your passion profitable.
Graduates of this program will receive the nationally accredited awards for BSB40820 Certificate IV in Marketing and Communication plus 
BSB40320 Certificate IV in Entrepreneurship and New Business
BSB40820 – Certificate IV in Marketing and Communication
BSBCRT412 Articulate, present and debate ideas
BSBCRT501 Originate and develop concepts
BSBCMM411 Make a presentation
BSBMKG542 Establish and monitor the marketing mix
BSBMKG439 Develop and apply knowledge of marketing communication industry
BSBMKG435 Analyse consumer behaviour
SIRXMKT006 Develop a social media strategy
SIRXECM002 Prepare digital content
BSBWRT411 Write complex documents
SIRXOSM005 Develop a basic website for customer engagement
BSBMKG433 Undertake marketing activities
BSBESB404 Market new business ventures

BSB40320 – Certificate IV in Entrepreneurship and New Business 
Graduates BSB40820 receive credits for BSBCRT412 Articulate, present and debate ideas, BSBCRT512 Originate and develop concepts, BSBCMM411 Make a presentation
NEED TO COMPLETE:
BSBMKG431 Assess marketing opportunities
BSBCRT413 Collaborate in creative processes
BSBESB401 Research and develop business plans
BSBESB402 Establish legal and risk management requirements of new business ventures
BSBESB403 Plan finances for new business ventures
BSBESB302 Develop and present business proposals
BSBESB404 Market new business ventures