Scoping Your Start-Up
Founding a start-up doesn't always mean spearheading corporations of a large scale because realistically, not all start-ups are designed to be of an enormous scale. In fact, a large majority of start-ups are classified as small-to-medium enterprises (SME's) that consist of anywhere between 1 to 200 employees. SME's can be local, regional, national or even international businesses. It's important to note that start-ups are functionally less structured than your general SME and a start-ups main goal is to utilize all available resources with the goal of accelerating company growth.
Regardless of your business size, when you're beginning close to square-one It is crucial to analyse your vision's current circumstances and gather insights that will allow you to accurately forecast your business' needs, wants and potential progress. Scoping through analysing and forecasting will provide a sound strategy to mapping out your business's activities, core areas of expertise, product and service offerings, competitive points of differentiation, as well as marketing initiatives and direction. Defining the scale ties into every aspect of your company and is absolutely necessary to forming safe, ambitious and innovative planning and strategies to cover all of your bases.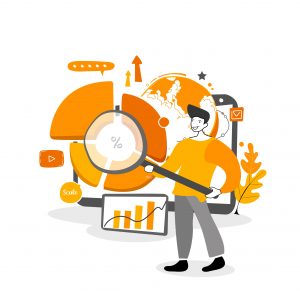 So where should you start?
Scale:
This is where you determine your size and needs. First, pinpoint the current scale of your vision, passion, start-up, or project. The scale of your business will determine the amount of resources needed to operate and grow within the marketplace. Small businesses, commonly referred to as sole traders, self-employment, or SME's, are of much smaller scale than large corporate start-ups and don't need as many resources to maintain everyday operations or propel brand momentum. Advantageously, costs are minimised, equipment and office space needs are limited, and employment expenses should be narrow due to the small scale of operations. Most start-ups begin as small businesses and organic business growth is found through a high amount of traction. However, if you are looking at founding a larger scale business, the aforementioned areas of business development will be maximised taking into account greater business needs, so be prepared for expenses to rise in proportion with the scale of your business.
Stage:
This is a snapshot of your business' current position in the marketplace. Looking at the present stage is your starting point. You want to have a concrete and complete understanding of where your business is, where it's going and where it can go based on current trends and circumstances. The first step in understanding what stage your business is at is to critically analyse your business' current operations by answering these questions: Is your business in the brainstorming or ideating stage, or non-operative? Has your vision, passion, project, or business produced a purchasable product or service? Is it up and running in some form such as an eCommerce model? Has your business or offerings gained brand awareness and momentum with customers?
How much momentum has it gained? What observable trends can you note relating to your momentum? How can you capitalise on these internal trends? Answering these questions provides valuable insights regarding where your business stands today. Use this information to take effective action where necessary, make improvements to current processes and form a business growth strategy. This process helps you to identify areas where your business is excelling and points of weakness. Knowing where you stand will save you time and money and eliminate wasting resources on fruitless activities. Being an entrepreneur is not linear and sticking to observable facts is your key to taking insight-driven action.
Traction:
Traction refers to the awareness of your brand, offering, project or passion within the general marketplace. If people know about your brand, are excited about your business offerings or plans, your business is trending on social media or customers have already made a purchase, this is referred to as high traction. It means you're doing something right and have gained a consumer base in the marketplace. Traction dictates the stage of your start-up and your short and long-term forecasting. It also dictates your options for sources of funding. For example, if your business is relatively unknown, non-operative and still in research and development, it's likely you will need to self-fund for the first few years before gaining traction. However, if your business has already attained high traction, this alone will appeal to Angel investors and venture capitalists who will more likely see financial value in your vision and potentially choose to inject capital in support of your business growth. Traction is what transforms a business from 'Mom and Pop' to market leading. Naturally, if you have high traction, you may not need to seek financial support. Potentially, your own sales and revenue generation could be enough to keep your business steady and provide enough capital to fund the growth of your start-up. Traction will determine your earnings, the size of your customer base, your business opportunities, and the rate at which your start-up begins generating a profit. Understanding how much traction you have at square one, how much traction you need to reach your business goals and how much traction is realistically possible alongside your market competition is invaluable knowledge that can help your start-up level up in the short or long term.
Funding:
Essentially, the more positive media and reputational boosts your start-up receives, the more it will be noticed by other professionals in the industry and the wider marketplace. This gives your business credibility, competitive edge, and assists to present your vision as a valuable opportunity to Angel investors and venture capitalists. Your start-up doesn't need to be of a certain scale, have a certain amount of employees or be the most innovative new option in the market. It simply needs to evidence that it is a credible business that people are paying attention to and demonstrates a true value proposition that your customers are displaying loyalty towards, with steady but not necessarily fast growth. The key requirements for start-ups that investors look favourably on are businesses that are situated in expanding markets, like technology or digital services.
Looking at these factors and asking yourself these critical questions will enable you to make informed decisions. Regardless of your business size, any start-up can achieve massive growth and high traction, as long as you are realistic about your current position and use information to lead your growth strategy.
By Rob Schafer – founder | chairman of mnm institute
#mnmmakessense #dontfakeitmakeit #passionfounder
09.11.2021 08:43AM
30 FREE spots for ENTREPRENEURSHIP BOOTCAMP up for grabs!
LAUNCH & GROW YOUR STARTUP
To celebrate our new campus at mnm Loft39 Ultimo we like to find 30 potential individuals with ideas that are worth developing.
About this program
This 12-week entrepreneurship bootcamp kicking off in January 2022 is aimed at teaching participants how to start their very own business from the ground up and make their passion profitable. We will give you all the tools, strategies, information, support and advice to turn your vision into a business reality.
If you would like to come along to the information session on 4 December 2021 register your interest now!
you might be interested in...
mnmTV
Learn more