Global Entrepreneurship, GEM and the New Normal 4 Key Findings
Many people are unfamiliar with the Global Entrepreneur Monitor (GEM) and the importance it holds in the world of global entrepreneurship
So why is GEM important, and how can you benefit from materials and activities produced by GEM? Started in 1999, GEM is an ongoing project started by Babson College and London Business School designed to research, analyse and gain insights into the relationship between entrepreneurship and national economies across the world.
GEM boasts some 200,000+ annual primary research undertakings across 115 economies with a central focus on interviews with entrepreneurs of all ages. GEM also holds partnerships and strong relationships with over 300 academic institutions internationally.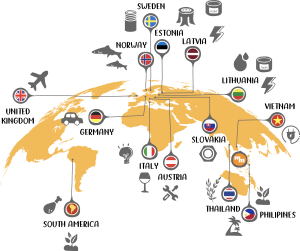 The Global Entrepreneurship Monitor serves as a central hub for ongoing developments in the global entrepreneurship industry and provides meaningful updates regarding industry trends, reports, news, and statistics, highlighting the ever-expanding and evolving world of entrepreneurial business.
GEM has become one of the most credible sources of information regarding the global entrepreneurship industry, publishing an international report annually and constantly engaging in ongoing specific topic reports which provide invaluable data and insights on the industry.
The consortium's mission is to undertake research with the intention of uncovering best practices and scientific findings through collaboration with entrepreneurial businesses. Companies wanting to explore potential opportunities, strategies, positioning, and markets can work with GEM to explore how contemporary business models can function most effectively.
Entrepreneurial business has historically shaped global economies through injections of innovation into tired industries and markets.
Opportunities for evolution are harnessed by entrepreneurs who take it upon themselves to develop new technologies, capabilities, resources and provide research and development of a unique, untouched business idea. Naturally, the cause-and-effect relationship between start-ups and economic development is fascinating to monitor and understand how these specific types of business ventures consistently assist our world to leap into the future.
The only prerequisite to entering and participating in the entrepreneurial industry is seeking to understand what opportunities exist and how they can be capitalised upon in the world of business, by whom and at what consequence. This extends to any and all aspects of life and business, and comes in various forms such as social, lifestyle, high-technological, corporate, habitual and family entrepreneurship.
The 2020/21 GEM Global Report delved deep into changes to the global entrepreneurship industry since the emergence of the COVID-19 pandemic. Naturally, businesses all over the world have suffered due to restrictions, closures and health orders which has impacted short and long-term operations.
The situations we find ourselves in today is operating under COVID and what is now considered the 'new normal'. So, what exactly is the new normal?
GLOBAL ENTREPRENEURSHIP FINDINGS
GEM spoke to entrepreneurs from all walks of life and asked them the same question: "What is one key lesson you have learned as an entrepreneur running a business during the pandemic? How do you attend to apply this lesson as we move into a "new normal"?"
Answered varied largely but were unanimously enlightening and thought-provoking.
"We understand that collaboration must be more flexible – anywhere and anytime".
The world must learn to adapt to online-only based means of communicating and operating. Not just if we undergo a drawn-out global pandemic, but to grow industries through connectedness. It also acts a safety net to ensure day-to-day business operations can remain as consistent as possible under any circumstances.
Brick-and-mortar businesses would be wise to integrate eCommerce models into their business structures as the world moves towards transforming traditional retail stores from transaction based to experiential based.
"The pandemic prompted us to take risks, preserve and create strategies to boost our sales".
Traditional business operations were objectively shifted due to circumstances and as such, retail businesses have had to integrate their offerings to online forms during the pandemic. For example, many restaurants converted to delivery only in order to survive.
Building on existing marketing strategies to appeal to a wider audience can be achieved by integrating online methods of customer interaction. The introduction of a new way to engage with customers to retail businesses post-pandemic provides an opportunity to boost sales and discover further strategies to promote business growth.
"The pandemic has taught me lessons in patience, better communications and compassion and to contribute, share and inspire".
Many businesses have used the downtime to better their reporting, strategic management practices and look for new opportunities. It has also inspired people to be more thoughtful, empathetic and understanding, and profit maximisation for the first time in recent history hasn't been at the forefront of multinational corporations' agenda. Interestingly, organisation's have chosen the path of giving with the goal of supporting their wider communities, positively shaping consumer perceptions, and inciting beneficial brand awareness.
"Every situation is an opportunity to work hard – success will follow your path".
Every experience, good or bad, shapes us and our attitudes, beliefs, and behaviours. During a time when the global population is thinking mostly with self-interest, many entrepreneurs have re-organised or re-aligned their business focus to support those in need during the pandemic.
This has led to crucial innovations in PPE equipment, medical care, government financial support, and remote job opportunities. COVID has presented avenue's for developing our expertise in ways that were not possible previously, and although the situation itself is daunting, heavy and uncertain, global entrepreneurs and business leaders have found ways to carve out new opportunities for themselves and align their values and principles with their outputs and contributions.
How should we act under the "new normal", and what changes have come into play that will affect global entrepreneurship as a whole?.
The experiences of the leaders whose interviews were published in the GEM report shows us that acting with good intentions, constantly looking for new opportunities, integrating eCommerce-based models and supporting the needs of communities by re-shifting certain business focuses can safeguard organisations and their day-to-day operations.
The heavy reliance on online means of transacting will continue, growing year-on-year, and the historical existence of a retail-only business model will soon become a trend of the past.
People now more than ever are in need, and implementing processes, procedures and diverse methods of operating can support the growth of job opportunities, the stability of the economy, and create potential new industries. Always act in good faith and seek to broaden your personal and professional horizon.
You can find your nations report at GEM's National
YOUR GLOBAL ENTREPRENEURSHIP JOURNEY CAN START HERE!
By Rob Schafer – founder | chairman of mnm institute
#mnmmakessense #dontfakeitmakeit #passionfounder
05.02.2022 08:25AM
LAUNCH & GROW YOUR STARTUP
If you've never started a business before, and you think it might be something that you're interested in, then this is for you. 💪 ✈️
About this program
When you're an entrepreneur it is priceless to be connected with others like you. People walking the same path, sharing the same challenges. Networking is a true investment in your business and if you are well connected, you will find what you need at your fingertips.
Learn about quick and affordable ways to grow your brand. Choosing the best growth strategy for your Start-Up can be tricky but we will show you how to transform your ideas into profitable business opportunities. 🏆
Mentors have gone ahead of you in their journey, they have experienced the ups and downs of entrepreneurship. Your chance of success increases with getting access to the business knowledge and guidance of our experienced professionals.
As a world class Start-Up educator, we know what it takes for the next generation of entrepreneurs to succeed. We will give You all the tools, strategies, information, support and advice to turn your passion from a dream into a business reality.
👉 Takeaways
You'll leave armed with a 'straight to market' strategy plus we'll help you build the confidence you need to take the leap.
❌ Business Model Canvas + Lean Startup
❌ Market Environmental Analysis
❌Target Audience and User Personas
❌ Business / Marketing / Social Media Strategy
❌ Company Setup and Funding Options
❌ Web Domain / Hosting (1 Year)
❌ Pitch Deck
Starts 4 April 2022
you might be interested in...
mnmTV
Learn more